I love how these colors somehow combine the soft and bold to create a fun yet sweet boutique website template.  Our affordable eCommerce templates let you quickly and easily take your boutique to the next level.  We work with both starter cart options like MerchantMoms.com and Shoppepro.com to some more advanced carts like 3dCart and BigCommerce.  There really is something for every budget.
Check out this pretty boutique website template at at myquickboutique.com.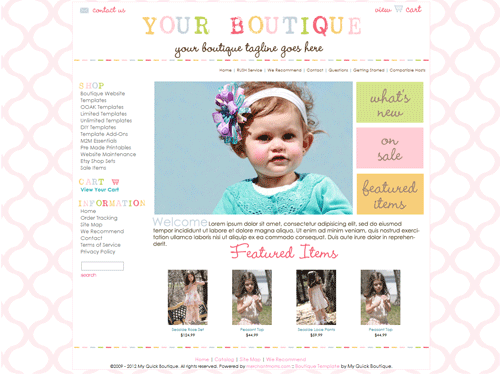 Our templates come with several different hosting options.  All of our hosts have intuitive cart systems that let you control your store or website from an online admin.  You can make changes to your content and products at any time!  You can see our full list of compatible hosts HERE.  With many upgrade options, like front page setup, matching print materials and Twitter backgrounds or Facebook timeline graphics, we really have everything you need for your online boutique.  Our boutique website templates and other offerings allow you to have a beautiful online storefront that looks customized, at a fraction of the cost.
If this boutique website template isn't quite right for you – check out the other affordable website templates at My Quick Boutique or consider a custom boutique website design from Modern Sugar.  Fill out our design questionnaire for a free consult.
Boho Bedroom Photo courtesy of Better Homes & Gardens.