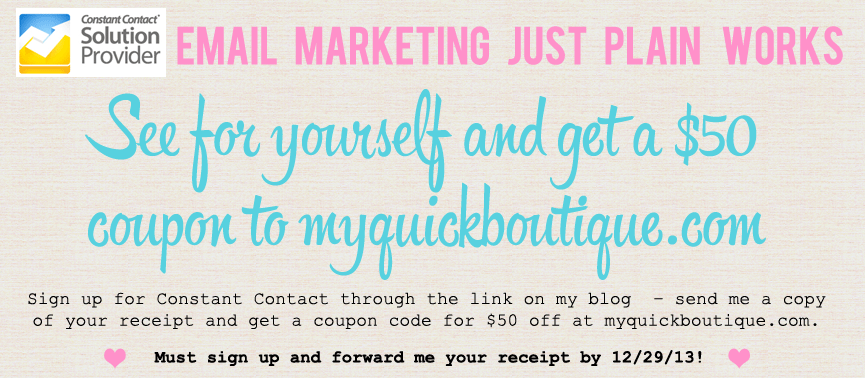 Constant Contact is one of my most frequently used tools.  I have tried several other email services and believe wholeheartedly that Constant Contact has one of the best, most affordable plans out there.  And in all honesty, I've used some of the more expensive plans, like myemma.com but have found Constant Contact easier to use.
If you haven't started an online newsletter yet…do yourself a favor and sign up for one today.  Even if you aren't sure what you would send out, at least get that sign up out there and try sending one newsletter out a month later.  Even if you can only commit to one a month – it really does make a difference.  People buy from brands that they trust, and trust comes from knowing more about something.  Sending out useful information on a regular basis is one of the best ways to build that trust…period.  Constant Contact puts it best when they say "Email marketing  just plain works.  Your customers check their inbox all day, every day. You're sure to reach them when you work with Constant Contact. Build relationships, drive revenue, and deliver real results  for your business."  I have LITERALLY had clients email me and comment on the increased sales in their store after an email newsletter was sent out.
To give you a little more motivation – I am offering a $50 coupon to MyQuickBoutique.com to anyone who signs up for a paid account through my constant contact affiliate link.  http://www.constantcontact.com/index.jsp?pn=tmbdesigns If you have been on the fence about signing up for a mailing list then hop to it and sign up and take advantage of this great offer.  Whether you need a new boutique logo, a premade boutique website template or an etsy banner, My Quick Boutique has got you covered!  Through 12/29 (ends at midnight 12/29/13) sign up for Constant Contact through my affiliate link at http://www.constantcontact.com/index.jsp?pn=tmbdesigns – send me a copy of your receipt and get a coupon code for $50 off at myquickboutique.com.  You must sign up for a paid account, not the free trial in order to get the coupon code.  You can email the receipt to support@myquickboutique.com and your coupon code will be sent within 24 hours!  Or, if you prefer, email me your contact information and I can set the account up for you!
Disclosure of Material Connection: Some of the links above are "affiliate links." This means if you click on the link and purchase the item, I will receive an affiliate commission. Regardless, I only recommend products or services I use personally and believe will add value to my customers. I am disclosing this in accordance with the Federal Trade Commission's 16 CFR, Part 255: "Guides Concerning the Use of Endorsements and Testimonials in Advertising."