I have had the mobile app QuickView by Constant Contact for some time now.  I've used it from time to time to check the results of newsletter campaigns.  It's a nice tool that shows me the percentage of opens I have, along with the percentage of clicks and which links have been clicked by who.  For the first time though, I decided to try out one of the other features of the app and create an email right from my iPhone.
According to Constant Contact's blog about the QuickView app:
Do you know the number one thing people do with their mobile devices? It's checking their email.

If you are not in the office or at your desk, should that stop you from keeping in touch with the people who want to hear from you? Absolutely not! This is when the Constant Contact QuickView app is so helpful. Not only can you build and send email campaigns, you can also track the results and add new contacts.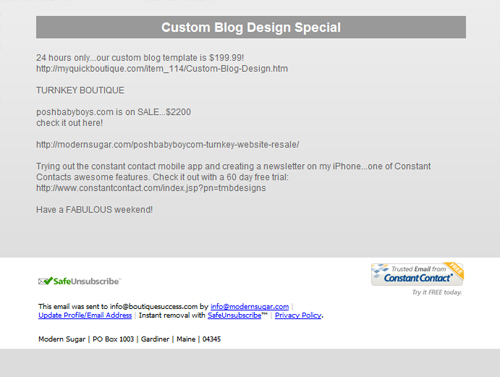 QuickView was VERY easy to use and the newsletter looked clean and well formatted when sent. It's basic, no fancy bells or whistles, which is absolutely not my preference in a newsletter, but when you are on the go or in my case, watching TV in bed on a Friday night and realize you forgot to send some important news to your mailing list…well, QuickView is a "quick" and easy fix.  My only complaint is that links within the newsletter did not come through as links but as straight text.  The app does have a link feature, but it places links at the bottom of all the text, and I wanted them within the text.  It's possible that there is a way to do that, but it wasn't readily apparent.  Hopefully they add this functionality on for future updates since the goal of many email newsletters is to get people somewhere on the web.
I won't be composing all or even most of newsletters this way, especially since I'm in the process of redesigning my own Constant Contact newsletter template  – but it's nice to know it's an option.  One other thing to mention is that the app is available and well supported for Apple products, but not so much for Android.  There is a version, but it's considered open source which means if you aren't a developer it might be tricky to load…hopefully the release a full version for Android products sometime in the future.
QuickView for iPhone, iPad and iPod Touch.
Check out Constant Contact with a 60 day free trial: http://www.constantcontact.com/index.jsp?pn=tmbdesigns