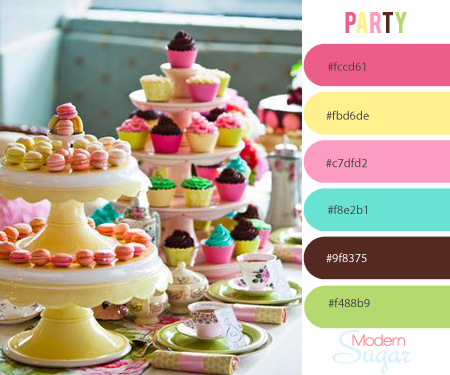 I've been VERY obsessed with cupcakes lately.  Every party deserves a beautiful, super yummy cupcake!  I've been experimenting with all kinds and colors…the latest is classic vanilla with a chocolate frosting that mimics canned but is so much better, and banana cream pie cupcakes.  Super yum – what could be better.  My favorite in the last couple of weeks was last weekend – lemon blueberry with lemon buttercream frosting.  So, as soon as I saw this picture it made me want to bake, bake, bake…and then throw a party.  Cinco de Mayo is coming up…last year we did a Cinco de Maya Derby party with Mint Juleps and Dulce de Leche cupcakes.
Having no party or need for dozens of cupcakes…I started in on a OOAK boutique website design.  Yay – hopefully it will make you want to have a party, or at least go to one!  Enjoy…new template should be up very soon!
Photo courtesy of Hostess with the Mostess Blog.