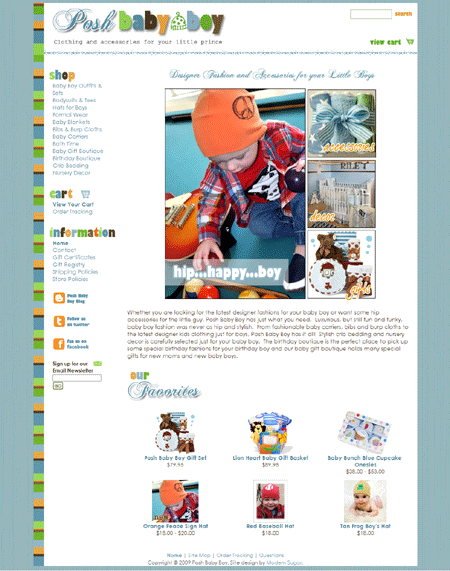 poshbabyboy.com is a turnkey online boutique, filled with drop-ship products, ready for you to start selling online.  If you've dreamed of owning your own boutique website – this turnkey boutique is the  perfect solution.
This is a resale site – the current owner no longer has time to run this site but has put a lot of work into it.  Poshbabyboy.com is poised to be a thriving online store with consistent time spent on updating and marketing it.  In addition, poshbabyboy.com has a product line that they are able to offer drop shipping and wholesale on, so there is added potential for revenue.
The turnkey website package includes:
custom website template for Posh Baby Boy
poshbabyboy.com domain name paid for through 11/12
Content Management System with cart – setup on Merchant Moms (does not include hosting – approximately $15 a month)
twitter already setup with matching background
newsletter account setup through Constant Contact (approx $15 a month)
front page setup complete with intro text
mal's cart setup (completed after purchase)
there are approximately 300 proudcts with 17 drop-ship vendors
email and phone support to learn how to use the included Content Management System (CMS) (unlimited email support and up to 2 hours phone support)
This is store is ready to go – all of the items are hand-picked boutique items that are setup with drop-ship accounts – that means you don't have to pre-pay and carry inventory – you purchase items as they are sold on your site!  With some TLC and time invested the site could be making sales quickly!  This site is not for everyone and will need some time to see your sales increase.
Pricing: $1200  SALE $750
Please contact us if you are interested in this turnkey boutique website!