Sassy 'Lil Sprout is a turnkey online boutique, filled with drop-ship products, ready for you to start selling online.  We designed Sassy 'Lil Sprout with a client who found herself without time to run it.  It's a super cute little store, with just enough items to get you started and on  your way to owning the store you've always dreamed about!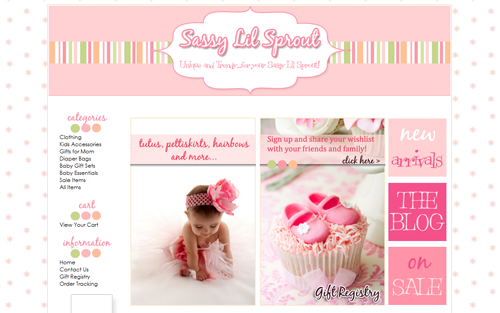 Sassy Little Sprout includes:
Semi-Custom boutique web design – design is based on a pre-made template but has been customized for added uniqueness
sassylilsprout.com domain name paid for through 12/10
website hosting setup through Merchant Moms ($12.95 a month)
mal's cart setup (completed after purchase)
approximately 130 drop-shop products already added and in stock on the site
7 high quality drop ship vendor accounts setup for you (estimated 100 – 200 additional products available with current vendors)
front page setup complete with intro text and product collage
email and phone support to learn how to use the included Content Management System (CMS) (unlimited email support and up to 2 hours phone support)
Up to 1 hour additional customization time.
Optional Add-Ons
blogger template (we're happy to upgrade you to WordPress if you prefer – just ask!)
twitter already setup with matching background
web banners for advertising
business card design
newsletter account setup through Constant Contact with matching newsletter template (approx $15 a month for mailing list service)
Pricing: $900
Please contact us if you are interested in purchasing Sassy Lil Sprout!