No need to carry inventory – completely stocked with drop ship wholesale vendors!
SOLD
ShabbyTots.com is a turnkey online boutique for sale.  I created this site a couple years ago as a side project…but like many projects, I just did not have time to devote to it.  I LOVE this site, but know that someone will take better care of it than I am.  We are currently going through and updating the products, selecting some new vendors and adding more drop-ship inventory – this site will be ready for sales mid to late November!   This beautiful site features a custom designed template and will be hosted on Merchant Moms, or if you prefer, we can put together a package to move to 3dcart and update the current template to a 3dcart template.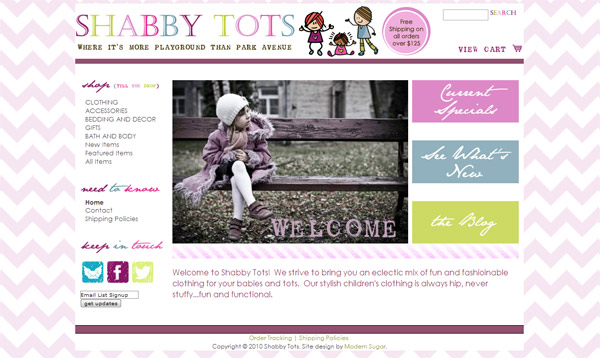 Our turnkey website package includes:
OOAK template custom designed for ShabbyTots.com
shabbytots.com domain name paid for through 5/17/13
website hosting for first month ($12 a month after)
mal's cart setup
wordpress setup with matching template
twitter setup with matching background
facebook timeline
2 web banners for advertising
business card design
newsletter account setup through Constant Contact with matching newsletter template (approx $15 a month)
toll free phone number setup to ring through to your phone, cell or computer, includes 3 months (approximately $10 a month)
front page setup complete with intro text and product collage
initial SEO meta tags (description, title and keywords)
3 months SEO campaign
2 press releases
1 month google adwords ppc campaign – includes

Unlimited Keywords with 10 Coordinating Text Ads – all budgets set
Each Keyword will be set with cost per click & ad position
Targeted Demographics
Location of Ads
Hourly & Daily Time Slots
Customer Budget starting at $10.00 minimum a day – recommended budget to follow 1st full month ($150 a month to continue managed campaign)

7 – 10 high quality drop ship vendor accounts setup for you
500 drop ship products (being loaded now)
email and phone support to learn how to use cart and CMS (unlimited email support and up to 2 hours phone support)
We will help you every step of the way to make sure that your store is setup and ready to launch. With over 8 years of experience creating custom boutique websites – we know what it takes to make your business successful. This package gives you all the tools and allows you to add your personal touch for the perfect online boutique.
This is store is currently being revamped – we are carefully selecting boutique items that are setup with drop-ship accounts – that means you don't have to pre-pay and carry inventory – you purchase items as they are sold on your site!  We have done much of the hard work for you – but there is still a lot of work involved with creating a thriving online store…this task is not for everyone and you will need so spend time working to see your sales increase.  This store is best suited for someone who has 1 – 2 hours a day or more to spend adding additional inventory, working on social media, blogging and concentrating on SEO.
Pricing: SOLD