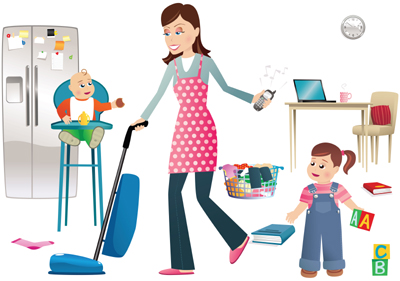 My daughter turns 11 this summer.  That means I have been a WAHM for almost 10 years…8 of those full time.  (can I just throw in a public service announcement that I hate the term WAHM – every mom works at home, how could we not…there has to be a better way to describe a mom who works a part time or full time job at home while still doing all those full-time things that EVERY mom does.)  The first year I was only dabbling in working at home…it was always something I wanted to do, but really stumbled into web design by accident.  You can read more about my start in my WAHM journey blog post.  It's certainly been a wild, exhausting ride.  The last several years have been much more manageable, but so much work and effort goes into creating something that works, and even now I find myself needing to reassess from time to time.  With my most recent reflection, I've come up with a list of my top 5 wahm must-do's for sanity!
1.  Pick a work schedule and stick to it – I used to obsess about my work phone ringing and answer emails at all hours of the day and night, holidays and weekends included.  I had the right idea by posting my work hours in my email signature, but I NEVER stuck with them.  Being on call, day and night is a sure ticket to burn-out.  My advice, pick your hours, post them on your website and in your signature and stick with them.  Every once in awhile I have a frustrated client because they didn't hear back from me on Sunday and I politely point them to my posted hours, where it clearly states I am off on Sundays.  I can then feel completely justified to not check or return e-mail on days and during hours that I am off.
2.  Pick a family schedule and stick to it – yep – the inverse of rule #1 applies here.  I quickly found that although I felt like I was never working enough, my family would consistently say all I did was work.  Maybe our perceptions were both a little off, but this was easily fixed by choosing times and days (yes, entire days) that I devoted to my family.  This is not always as easily said as done and of course there are deadlines and emergencies that create exceptions, but setting your family hours will make things much easier on them and you.  This means different things to different situations, some of us have little ones home 24/7, some of us have school age kids that are gone during the day.  Pick a time to work, if it's late nights or early mornings, fine, but then make sure that you let your family know when you are not working.  For me that meant stopping work at 3:30 when the kiddos came home and carving out most Saturday afternoons and all day Sunday for my family.  It's not always perfect, but everyone is more at ease knowing that they get mom time on a consistent basis.  And if you have a significant other, don't forget to factor them in.  My husband and I have several nights a week slated for TV, and then I don't feel guilty on the 1 or 2 nights that I spend working.
3.  Make a chore schedule for the whole family – working from home can be tricky in terms of keeping the house clean.  It took a long time for my husband to understand that when I was home, I wasn't really home, I was at work.  If I want to continue to be successful in business, I can't spend time on household chores if I should be working.  By the same token, since work is at home, it's easy to never do chores because there is always business work to be done.  Enter the chore schedule.  There is no right way to do this, but it boils down to making sure that every person in the house pitches in to cook and clean in a predictable and reliable way.  Some of these things we were already doing.  I make dinner 5 nights a week and on those nights my husband does the dishes and cleans the kitchen.  He covers dinner one night and one night we get take out.  Fitting this in to a WAHM schedule was easy.  Other things, like who was going to mop the floors and do the laundry weren't so easy.  Especially if we wanted to spend our precious family time doing family things instead of cleaning.  If you have school age children get some sort of chore chart going that takes the pressure off you to nag, and creates a consistent schedule for them.  Be clear with your significant other on when you will have time to clean and don't be afraid to ask them to help.  Fit small cleaning breaks in during the day…it gives you a chance to get up and stretch and that last basket of laundry actually gets put away.  Be creative, but creating an unnatural assumption that mom still has to do all the cooking and cleaning even though she's working 40+ hours is a recipe for disaster.
4.  Carve out social time – being alone or alone with kids all day and having no one to vent to until your significant other gets home can be exhausting for them and for you.  People who work outside of the home usually have a lot of social interaction.  Even when I didn't think I had close friends at work, I really missed those work colleagues when they were gone.  Some great ways to combat this are once a month book groups or writing groups, consistent volunteer work or my favorite, girls night out (or even better in).  I get together with my girlfriends regularly, at least once a month if not once a week for social time.  Although we occasionally go out, more often we stay in and watch a movie and socialize.  It certainly can't replace the daily interaction of a 9 – 5 office job, but it is definitely a sanity keeper.
5.  Beg, barter or pay for help  – So many of the WAHM's I know are trying to do it all on their own.  In the beginning this might work well, but usually there are areas that you could use help.  Maybe hiring a bookkeeper makes sense for you, or swapping baby sitting with a friend, asking a parent/grandparent to watch kids or hiring a cleaning service to come in every 2 weeks.  When I was first starting out we had no extra money for any extra help, but my father-in-law lived 10 miles away.  It was uncomfortable at first asking for help babysitting, but once I got over that it was one of the best things I ever did.  My father-in-law had hours of quality time with his granddaughter and I had hours of child free time to work.  Another friend I know hired two high school girls to help pack and ship orders during the holidays.  Swapping baby sitting with moms is another great, inexpensive way to get child care.
Do you have a WAHM sanity tip?  Post it in the comments below!