By Erin Kroll
eCommerce Specialist
e-onlinedata.com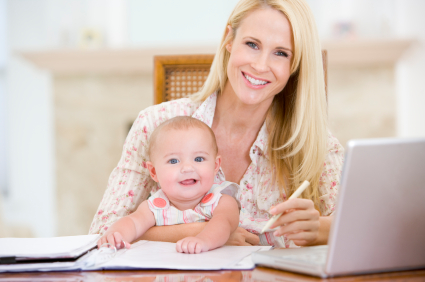 Simplicity is very important to work at home mothers (WAHM). I should know, my daughter just turned six months old last week, and with her arrival into the world, I've joined the ranks of these amazingly motivated and hardworking WAHMs.   Every day I am completely humbled by Momprenuers, striving for success in their own businesses, all while being Moms.
Keeping things simple is a mantra we all live by out of sheer necessity.  When you multi-task like a WAHM, time is a precious commodity, and any business solution that promises to give us more of it, while making our lives more simple, is going to have a substantial positive impact on our bottom line.
As an eCommerce specialist for e-onlinedata, a payment processing company in Portland, Maine, I know this all too well. Every day I help WAHMs begin their journey to a successful online business.  Having a great website is only part of the solution, choosing a payment partner that can save both time and money is crucial for success.  If you are just starting out, having a basic understanding of how payment processing works will be very helpful.  Here are some important things to consider:
Because you will not have access to the purchaser's physical card, Internet and eCommerce merchants rely on specialized software that allows them to capture and process credit card information on their web sites instead of through a POS terminal. There are two basic software programs needed to enable online commerce:
Shopping Cart: A secure series of scripts (or coding) that keep track of items a visitor chooses to buy from a site until they proceed to checkout. On the checkout screen, the shopping cart collects the credit card number, billing address, authorization number and expiration date.
Payment Gateway: When the online shopper is ready to finalize the transaction, the information collected in the shopping cart is transferred to a payment gateway for authorization. It is the equivalent of a physical POS terminal used in a retail setting.
Another situation where a purchaser's card is not physically present happens with MOTO or Mail Order/Telephone Order. Here, touch-tone processing, or an automated response unit (ARU), allows for credit card authorization and processing over the telephone. This type of processing does not require a shopping cart or payment gateway.
Pricing Basics
Now that you know how processing works and what the available options are, you're probably wondering how much all this will cost. While service fees and rates vary from provider to provider, "bundled" pricing is the most common type of agreement used in determining which per-transaction rate applies to which type of merchant. In the simplest terms, pricing is based on risk: the higher the risk involved in the transaction, the higher the rate the merchant will have to pay:
Qualified Rate applies primarily to card-present or traditional card-swipe (not key-entered) transactions. This is the lowest possible rate a merchant will incur when accepting a credit card. Telephone and eCommerce transactions cannot receive the qualified rate because they are unable to swipe a customer's card.
Mid-Qualified, or partially qualified rate, is the percentage a merchant will be charged if they accept a credit card that does not qualify for the lowest rate. This may happen if a consumer credit card is keyed into a credit card terminal, virtual terminal (online) or via a shopping cart.  This is the best rate that a telephone or eCommerce business can receive.
Non-Qualified is the highest percentage rate a merchant can be charged and applies to those transactions posing the greatest amount of risk. This rate would apply if a special kind of credit card is used, like a rewards card or business card, if address verification is not performed or a merchant does not settle its daily batch within the allotted time.
Again, these rates are used to determine the cost to the merchant on a per-transaction basis. There are additional costs associated with payment processing, including start-up fees, equipment costs, chargeback fees and more. e-onlinedata is a bundled processing solution for WAHMs featuring  both a merchant account and an Authorize.Net  payment gateway—this saves you time and money.
We're proud to be the payment processing partner for Modern Sugar. If you are currently processing with another company, I encourage you to contact us for a savings analysis.  WAHMs typically save up to 25% on their processing by switching and also thrive on our extensive knowledge and customer support that is simply committed to seeing your business grow.  For more information about e-onlinedata payment processing, please visit www.e-onlinedata.com or follow us on twitter @eonlinedata.